---
20-pin Subaru/Nissan Direct wire harness for Pioneer Headunits (2007-up Non-Navigation vehicles)
Item Number: AHH-70-7552P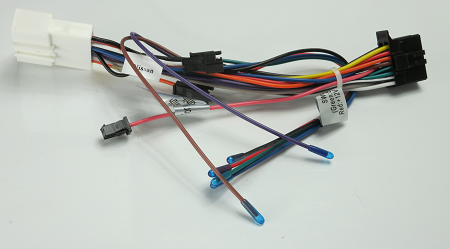 Description:
This adapter is used to install an aftermarket Pioneer Multimedia/Navigation Receiver in a 2007-up Subaru or Nissan.
Adapter includes pins to connect a steering wheel control interface module. (Pins 4,13,14)* and includes the Vehicle Speed Sensor signal wire. In addition, dedicated ground and +12 Volt Accessory wires are provided to power a steering wheel control interface module.
**Pin 14 is grounded in the harness for the convenience of the installer. If this connection is not desired, cut the wire that connects between pin 14 and pin 10.
Wires are either standard color coded or labeled for a simplified installation:
| | |
| --- | --- |
| Wire Color | Function |
| Red | +12 Volt Accessory |
| Black | Chassis Ground (Some Nissans vehicles don't have this wire) |
| Pink | Vehicle Speed Sensor (VSS) (input to Pioneer - do not connect for non-navigation Pioneer headunits) |
| Green (Labelled) | Pin 4 - Steering Wheel Switch 1 (May be different for Nissan) |
| Blue (Labelled) | Pin 13 - Steering Wheel Switch 2 (May be different for Nissan) |
Ground Wire Note: The ground wire found in the wiring harness is only for select vehicles only. Confirm that your vehicle's wiring harness has a corresponding ground wire. If no wire is present, cut the ground wire from the vehicle side of the adapter and connect the ground wires for the Pioneer and the Steering wheel control interface module to the vehicle's metal chassis.
This adapter does not include the 3.5mm connector that is used to connect the steering wheel control wires to an aftermarket audio receiver. If you are using an ASWC-1 or similar steering wheel control interface, this connector will be included with the interface. If your new Pioneer headunit/audio receiver has the capability to recognize steering wheel controls without an interface (Most Pioneers don't have this functionality), you do not need the ASWC-1. The 3.5mm jack for connecting to the back of the new headunit can be purchased HERE.
Purchase:
Price:$21
---
Need the 16-pin adapter?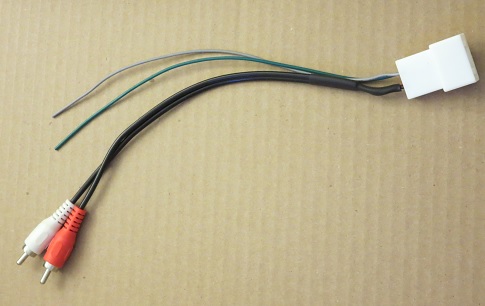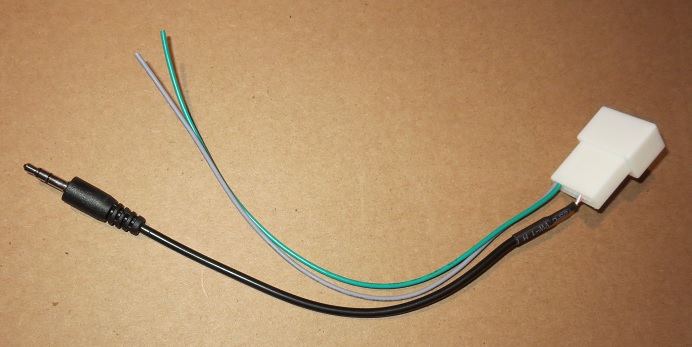 The 16-pin adapter retains functionality of the auxiliary input in the console. The wiring color code for the 16-pin harness/connector is as follows:
Gray - Reverse signal (Signal is NOT present on the WRX or Forester. Most pre-2012 cars also do not have this signal.)
Green - E-brake signal (Signal is NOT present on the WRX or Forester. Most pre-2012 cars also do not have this signal.)
Option 1:
Red RCA - Right Auxiliary audio input
White RCA - Left Auxiliary audio input
Option 2:
3.5mm plug - Stereo Auxiliary input
***Harman Kardon vehicles will include an additional wire. This wire is a +12V power connection for the stock Harman Kardon amplifier. It must be connected to the blue Amp turn-on wire on the 20-pin connector.***
Error! - Please enable Javascript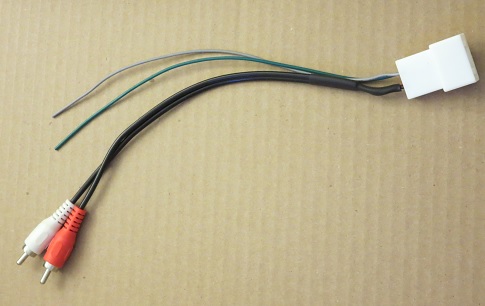 Option 1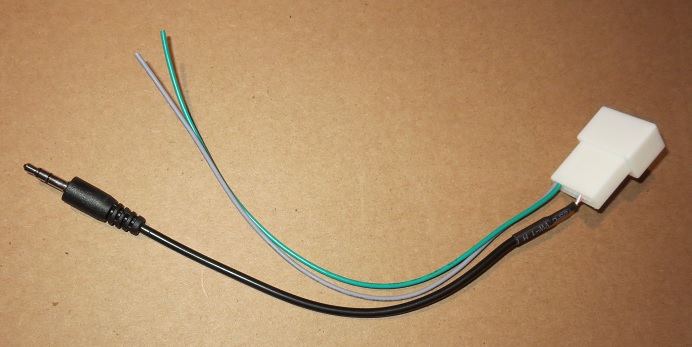 Option 2
---
Vehicle Fitment:
(This is NOT a complete list. Please help us update it. If a known model is not listed, let us know)
Subaru
2012-2014 Crosstrek XV (w/o nav)
2009-2015 Forester (w/o nav)
2008-2014 Impreza (w/o nav)
2010-2014 Legacy (w/o nav)
2010-2014 Outback (w/o nav)
2010-2015 WRX and WRX STI (w/o nav)
***This harness is not compatible with any 2016 Subaru vehicle. Please contact us (inquiry@autoharnesshouse.com) for the correct harness.
Infinity
2008-2013 G37
2006-2008 G35
Mazda
2016 CX-5 Sport
Nissan
2009-2018 370Z
2007-2018 Altima
2008-2018 Armada
2009-2010 Cube
2008-2018 Frontier
2011 Juke
2009-2018 Maxima (w/o nav or tech pkg.)
2007-2008 Maxima (w/o nav)
2007-2008 Maxima (w/ nav)
2009-2011 Murano S
2011-2011 NV
2011-2011 Quest
2011-2011 Rogue
2008-2010 Rogue
2007-2018 Sentra
2007-2015 Versa
2009-2010 Xterra S
2009-2010 Xterra X
2008-2008 Xterra (Late Production)
Pioneer Headunit Fitment:
This harness will fit any 2014 or newer Pioneer headunit with a video screen.
(If your unit does not have a video screen, slight modification may be necessary. Please ask us)
Pioneer AVH-1330NEX
Pioneer AVH-190DVD
Pioneer AVH-210EX
Pioneer AVH-290bt
Pioneer AVH-291BT
Pioneer AVH-2330NEX
Pioneer AVH-2400NEX
Pioneer AVH-2550NEX
Pioneer AVH-200EX
Pioneer AVH-4200NEX
Pioneer AVH-500EX
Pioneer AVH-600EX
Pioneer AVH-601EX

Pioneer AVH-W4400NEX
Pioneer AVH-W4500NEX

Pioneer AVH-X2800bs
Pioneer AVH-X391BHS
Pioneer AVH-X4800bs
Pioneer AVH-X490bs
Pioneer AVH-X491BHS
Pioneer AVH-X7800BT

Pioneer AVIC-5100NEX
Pioneer AVIC-5200NEX
Pioneer AVIC-5201NEX
Pioneer AVIC-6200NEX
Pioneer AVIC-6201NEX
Pioneer AVIC-7200NEX
Pioneer AVIC-7201NEX
Pioneer AVIC-8200NEX
Pioneer AVIC-8201NEX
Pioneer AVIC-W6400NEX
Pioneer AVIC-W8400NEX
Pioneer DEH-80PRS

Pioneer MVH-AV290BT
Pioneer MVH-2400NEX
Pioneer MVH-300EX
Pioneer MVH-S310BT
Pioneer SPH-DA02 AppRadio
Pioneer SPH-DA01 AppRadio
Pioneer SPH-DA120 AppRadio 4
Pioneer SPH-DA210 AppRadio 3
Pioneer SPH-DA100 AppRadio 2
Pioneer SPH-10BT
and MANY more...
Related Products:
Subaru Aftermarket Headunit installation kit (With 16-pin adapter and integrated ASWC-1 harness)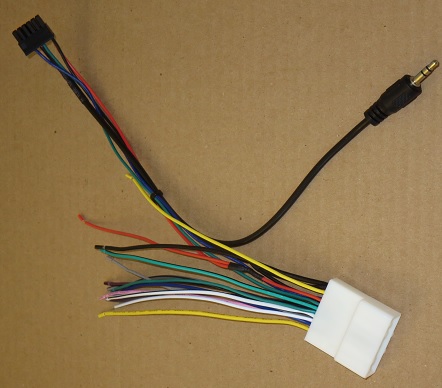 Similar Products:
Scosche NN04B
Metra 70-7552

---
www.autoharnesshouse.com
inquiry@autoharnesshouse.com