---
Toyota/Subaru/Scion 12-Volt splice harness
Item Number: 7629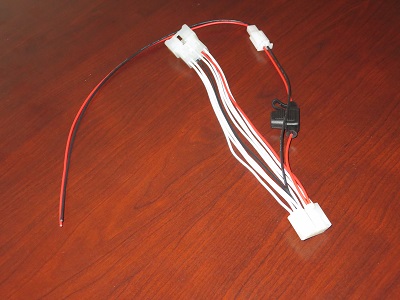 If you are looking for a unswitched (+12V always on) version of this harness, please select the "Unswitched" option at checkout.
Provides a fused(2 amp), switched 12-Volt accessory output. Connects between standard toyota 10-pin radio/head unit connector and the stereo unit.
You will recieve:
-1 12-Volt splice/jumper harness
-1 12-Volt jumper harness connector lead(20 cm long)
The harness is 100% plug and play. No splicing the stock wiring harness. Does not disturb stock appearance.
Note that the unswitched version of this harness does not protect you from draining your battery. Even small devices such as cell phones or cameras can drain your battery if left connected for long periods of time.
Price: $16 (Unswitched version available for $20)
---
Compatibility:
2013-2019 Subaru BRZ
2013-2015 Subaru WRX (With OEM Navigation)
2016-2019 Subaru WRX (With or Without OEM Navigation)
2013-2014 Subaru Impreza (With OEM Navigation)
2015-2019 Subaru Impreza (With or Without OEM Navigation)
2013-2014 Subaru Crosstrek XV (With OEM Navigation)
2015-2019 Subaru Crosstrek XV (With or Without OEM Navigation)
2013-2015 Subaru Outback (With OEM Navigation)
2016-2019 Subaru Outback (With or Without OEM Navigation)
2013-2015 Subaru Forester (With OEM Navigation)
2016-2019 Subaru Forester (With or Without OEM Navigation)
2013-2015 Subaru Legacy (With OEM Navigation)
2016-2019 Subaru Legacy (With or Without OEM Navigation)

2013-2016 Scion FR-S
2008-2016 Scion iQ
2005-2016 Scion tC
2008-2014 Scion xD
2004-2006 Scion xA
2017-2019 Toyota 86
2000-2016 Toyota 4Runner
2004-2016 Toyota Avalon
1987-2016 Toyota Camry
1987-2016 Toyota Corolla
2006-2014 Toyota FJ Cruiser
2001-2016 Toyota Highlander
1997-2016 Toyota Prius
1994-2016 Toyota RAV4
2001-2016 Toyota Sequoia
2000-2014 Toyota Sienna
2000-2016 Toyota Tundra
2000-2016 Toyota Tacoma
2009-2015 Toyota Venza
1999-2014 Toyota Yaris
2003-2012 Toyota Matrix
1998-2008 Toyota Solara
1987-2006 Toyota Celica
1999-2007 Toyota Echo


---
www.autoharnesshouse.com
inquiry@autoharnesshouse.com