---
Entune 2.0 to Entune 3.0 Transplant Harness - Information page
This page provides information on the Entune 2.0 to Entune 3.0 transplant harness that we offer! This harness has been a very popular request recently and while we LOVE interacting with our customers, we simply cannot answer all questions as quickly as a webpage can. This page is intended to provide all the details so that every customer is informed prior to purchase.
Wanna see how this adapter is installed? Check out this video on our YouTube channel (Install demonstration in a Toyota 4Runner):
Description:
This is an adapter harness that connects to the 10-pin, 6-pin, 28-pin, and 24-pin connectors on the Entune 2.0 Toyota vehicle's factory wiring harness. It will provide the necessary electrical connections to install(Transplant) an Entune 3.0 unit into most pre-2019 Toyota vehicles. This will be a plug and play adapter but not every adapter is identical. We will need some specific information about the unit that you're installing to build the correct adapter for your vehicle.
What functionality is retained?
-Speaker/OEM Amplifier connections
-Auxiliary Audio connections (USB is a separate harness...See below)
-Steering Wheel Switches
-Bluetooth Microphone
-Backup camera (By default, we will build this with the 24-pin connector for a 2014+ vehicle. If you would like the 16-pin connector (2011-2013 vehicles), please email us and we can switch it for you)
This adapter is often used to add an Andriod Auto and/or Apple Carplay headunit to a Toyota vehicle that does not have this functionality.
If your truck or car has the "Multi Information Display" in the dash AND the new headunit has the Navigation package, most of the functions should remain functional. Here are the details based on customer feedback:
-Street names, Compass, Speed limit (when available, but works the same as Entune 2.0), Current song info, and Audio source selection should show up as it currently does.
-Vehicle settings from the HU (door lock settings for example) should work as they currently do.
-Color theme selection may differ from the current headunit (you can choose a color theme in both the MID and the Head Unit, but the color themes don't match anymore. There is no green, red, or yellow theme in the headunit)
-Mileage *history* in the Eco app in the HU does not show previous trip data correctly.
For some reason, the non-navigation Entune 3.0 headunits do not transmit this information to the Multi Information Display. We do connect the wires for this data to be transmitted but we have received many questions from customers with the non-Navigation headunits about this information display.
Notes regarding JBL Vehicles:
If you have JBL in your vehicle, you will either need to install a JBL Entune 3.0 unit and swap the JBL amplifier from a newer vehicle or install a non-JBL Entune 3.0 unit (although this is not recommended and will require us to provide you with additional adapters). It is not possible to use the existing JBL amplifier with a newer JBL headunit. We have tried this and it didn't work for us. If you figure out how to get it to work, let us know! In the same vein, it is not recommended to install a JBL unit into a non-JBL vehicle. If you plan to do this, you will need the JBL amp to go with the unit and about $600 of wiring from us get the whole thing working.
The adapter for JBL vehicles is also different from the non-JBL adapter so please let us know that this is what you will be installing! In addition, we will need to provide you with additional wiring to adapter the connector for the new amplifier.
GPS connector note
Headunits that are designed to work with a navigation unit have a different connector for the GPS antenna than other units. This will only cause an issue if you are not using navigation with one of these units. If you are NOT using a navigation headunit than this is also not an issue. See the picture below for details: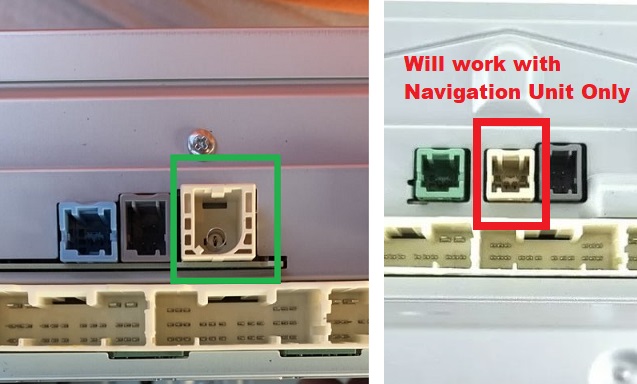 Lead Time:
All transplant harnesses are hand-assembled and built-to-order. Most orders will be shipped within 10 days. You will recieve an email when the order ships. If you need the harness by a specific date, please contact us regarding the option to expedite assembly.
Pricing:
Here is the pricing for the components that you may need for the install:
-Main Harness(depicted above): $125
-USB adapter: $40
-Navigation adapter (needed if you are installing an Entune 3.0 headunit with Navigation): $65
Purchase:
PLEASE DO NOT USE THIS FORM IF YOU HAVE JBL.
if the existing vehicle or if the new headunit that you're installing has the JBL system, then we will need to make other accomadations and the adapter ordered here will not work. Please contact us at inquiry@autoharnesshouse.com if this is your situation!
If you need the USB adapter, please order both parts below
Main wiring adapter: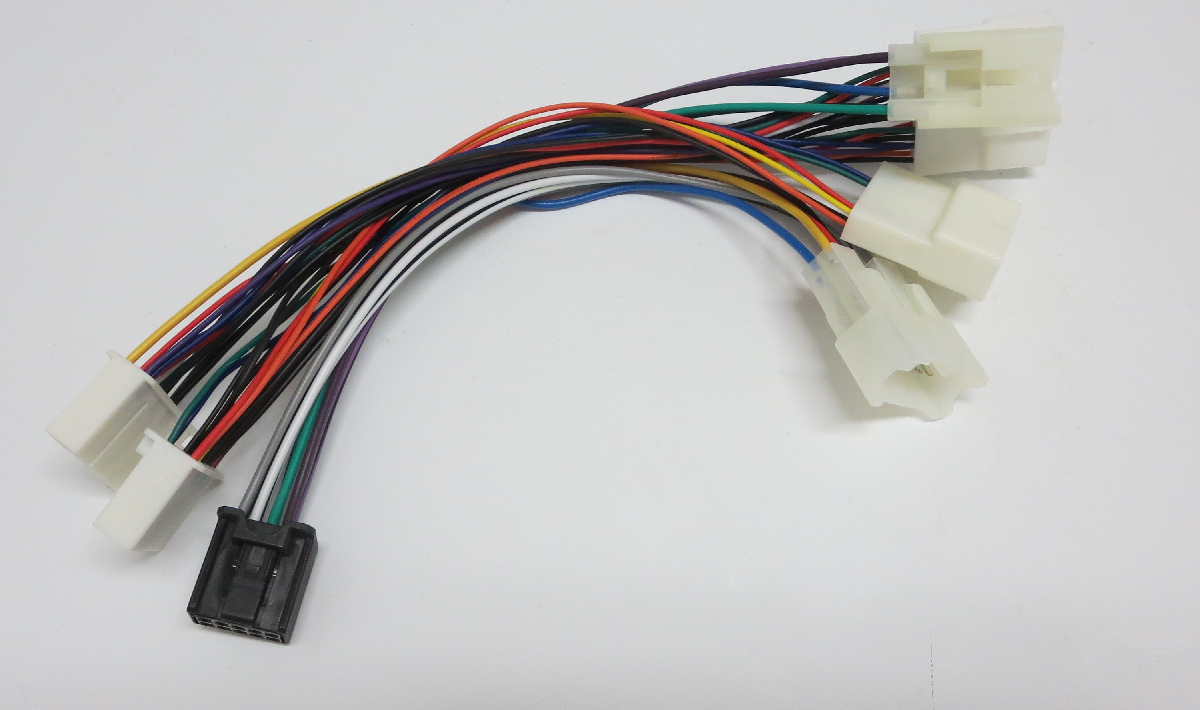 USB Adapter:
The USB adapter is a separate cable that is used to retain the USB port in the center console. This adapter will be needed for using Carplay, Android Auto, or USB charging using the existing USB port in your vehicle's console.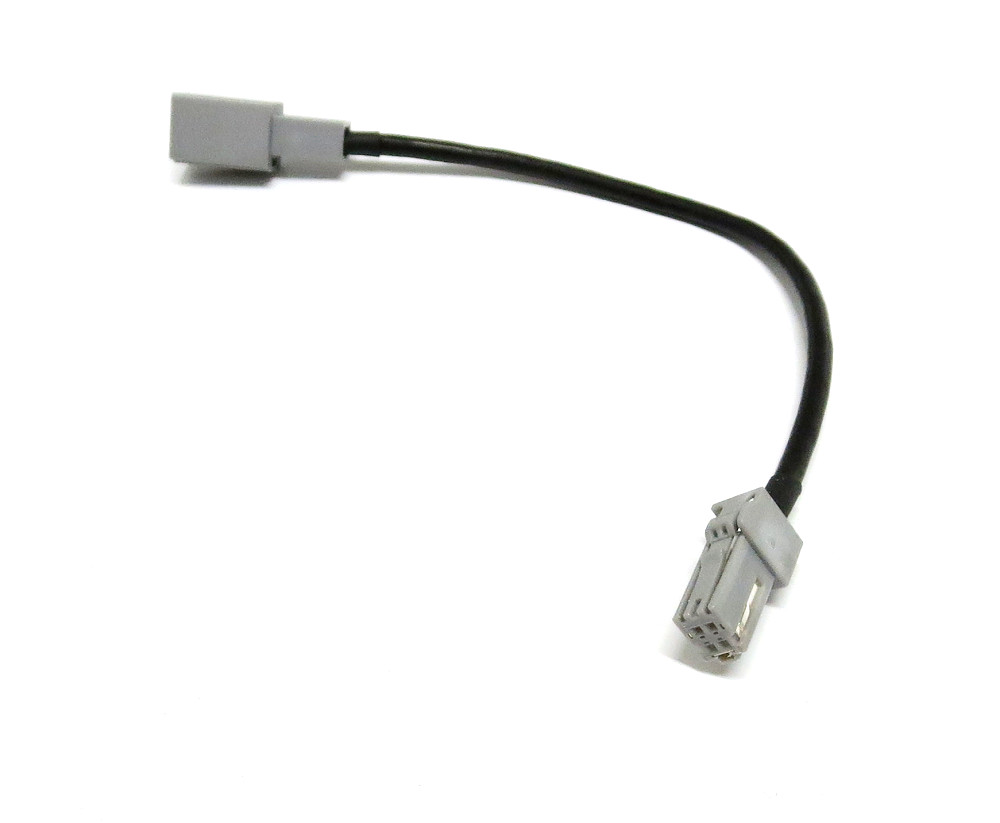 Please contact us if this form does not fit your needs.
Related Products:
Stock Backup Camera Retrofit Harness (connects Stock Toyota/Subaru/Scion/Lexus backup camera to aftermarket headunit)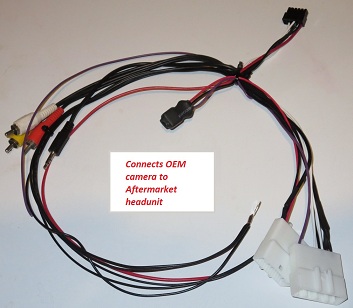 Similar Products:
Scosche TA02B
Metra 70-1761

---
www.autoharnesshouse.com
inquiry@autoharnesshouse.com
Privacy Policy - Contact Us - Return Policy
---