Installing an Aftermarket Headunit in your 2016-2023 Subaru
By Brian Doll, AutoHarnessHouse.com Technical support, May 2023
Introduction:
As one of the leaders in providing aftermarket wiring and installation kits to Subaru owners, we get many questions regarding the installation of aftermarket systems in newer Subarus. In addition, the internet is full of misinformation about the parts required for these newer models and what wiring is required to retain essential features. This article should clear up many of these questions and will get you on your way without weeding through pages of forum threads or digging into your car only to find that something you've bought doesn't fit.

Subaru does not make this install easy. Even owners with the same model and year of vehicle may have different wiring configurations based on the OEM headunit that is installed or the other features, such as Starlink, that are integrated with the system. We have solutions for each variation and would love to help you find what you need for your car. For starters, check out this page to see the listing of parts that we provide for your model.

---
May 2023 Update
With the new 2024 models year vehicles coming soon and some minor changes to the wiring of these vehicles, we wanted to update you with some of the new things that we have released since publishing this article. We now have a Pioneer direct wire adapter with the parking brake bypass already wired for you! It is shown as "Option 2" on the same page where the other direct wire adapter is sold and will keep your install looking clean when you plan to bypass the parking brake lockout on the headunit!
In addition, we have released a new line of ATOTO direct wire adapters. We always recommend the ATOTO S8 headunit over an iDoing unit because the iDoing units tend to be clunky and their support is almost non-existent. The ATOTO headunits are inexpensive Chinese Android double-din headunits and they are not free of flaws but we've been able to adequately support them for customers who want the features of an android unit and don't want to pay for the Pioneer or Sony. These adapters (There is a variation for the ATOTO A6PF and a variation for all other ATOTO models) include the AM/FM radio adapter and can be combined with the 28-pin backup camera adapter to retain the backup camera. ATOTO units have the benefit of retaining the steering wheel buttons without an interface module. Typically, we recommend the Maestro SW for other aftermarket stereo brands. The ATOTO headunit doesn't need this because there is an on-screen setup that will allow you to program in the function of the buttons as you desire and without the interface. Our direct adapters include the connector for this!
Subaru's big brother system - Starlink - is more prevalent now than it has ever been. It comes installed with almost any option package that Subaru offers and many of our customers want to bypass it. We've built bypass plugs that allow you to remove the telematics module and there is an option for those who want to keep the OEM headunit or those who just want to replace it with aftermarket. See this page for details! These adapters are custom build based on the model and year of your car so please make sure to put the correct model and year in when you order.
Subaru has had massive problems with the OEM headunits that are installed in the 2018-2019 Outback and Legacy. The screens tend to bubble and de-laminate and the (very expensive) replacement parts are backordered for months. We can help you install an aftermarket unit that will function better and cost much less. We recommend checking out some of the suggested options on our database page or emailing us at inquiry@autoharnesshouse.com with options.
Choosing a Good Headunit
There are thousands of choices when it comes to which headunit will fit your needs and it should be possible to integrate any of them into your vehicle. It is important to choose a quality system that will provide the features that you need. While we don't do comprehensive reviews of aftermarket headunits here at autoharnesshouse.com, we do have some suggestions.
First, the car audio market has been flooded with a slew of cheap Chinese Android headunits. The functions advertised for these systems are normally excellent given the price, but in our opinion, you get what you pay for. Our experience has shown that functionality of these systems is sloppy and the quality is sub-par. This means that the touch screen will be less responsive, the sound quality lacking, navigation choppy, and integration with phones or the vehicle may not be smooth. In addition, technical support is almost non-existent. Units that come with wiring pre-assembled are nice but these systems normally don't have all the wiring that you need to retain certain features, such as the backup camera or steering wheel controls.
Second, you'll need to decide what features you're planning to pay for. Do you need navigation? Do you need native navigation? What do I mean by "native"? Some models have Android Auto or Apple CarPlay functions that will allow you to use your phone's navigation functions without having a "native" or built in GPS. This will make things cheaper but it is also nice to have the flexibility to use navigation without being tied to the phone. I have a navigation system in my BRZ and I've found it useful when my phone dies or when I'm going to a destination where cell service isn't good. Points of Interest and traffic information are generally better in Google Maps but it never hurts to have a backup.
Do you want Sirius XM functions on your radio? If you use Satellite radio, you'll want to consider this in your install. Most aftermarket headunits don't have a built in SiriusXM tuner. Normally, you can buy a tuner that will connect to the headunit but this adds an extra expense. We sell the SXV300V1 SiriusXM Tuner here which is compatible with most SiriusXM Ready units. Make sure that the headunit that you're looking at is listed as "SiriusXM Ready". This means that it will have the jack on the back where the tuner will connect. If your car doesn't already have SiriusXM, you'll need to install the antenna that's included with the SXV300V1. If you've got an OEM antenna, we sell an adapter that will allow you use the existing antenna here.
Your OEM backup camera can be retained but you'll need to buy a headunit with an LCD screen. This may be obvious to most, but yes, we've had this question before. It also wouldn't hurt to check that the new headunit has an input for a backup camera. Any unit worth its weight will have this connection but some Android units do not and occasionally, a manufacturer will provide a proprietary connection that will only fit a backup camera that they supply. This is annoying because this does not allow for the OEM camera to be connected.
Once you've sorted through some of these questions, it's time to choose a headunit. We offer our thoughts on Sony headunits on THIS PAGE and Pioneer headunits on THIS PAGE.
1) Pioneer or Sony headunits are much easier to install using our Direct Wire Adapter (Sony Adapter Listed HERE). These adapters already has the Pioneer/Sony connector wired for you. This will be detailed more in a later section but essentially, it makes everything plug-and-play. We also have plug and play adapters for ATOTO Android headunits if you are looking to install one of these. (Click here for all ATOTO units except ATOTO A6PF - the ATOTO A6PF adapter is sold on this page)
2) If you aren't an audiophile, you probably won't notice the difference in sound quality between a Pioneer, Sony, Kenwood, or Alpine. You really can't go wrong there. If you are an audiophile, then you probably already know which headunit you're going to buy and my opinion will be worthless.
3) Navigation tends to be better on Kenwood units.
4) Sony headunits normally have a feature to recognize steering wheel controls built into the headunit. This requires a cable (Sony part# RC-SR1) to connect between the back of the headunit and the steering wheel control wires. This cable does not appear to be available anywhere, so we sell our version of it here. This feature is kind to the pocketbook because other models will require a Maestro SW interface module to connect the steering wheel controls with the car.
These are general opinions and rules of thumb and I welcome your feedback if you have suggested updates to this section.
---
Retaining Factory Features
In most cases, all factory features can be retained except for the OEM bluetooth microphone. This section provides some detail on how each feature can be retained.
Backup Camera
Subaru uses two different wiring configurations for the backup camera on these model years. Some vehicles have a 5-pin connector that is dedicated to the backup camera and other variations wire the backup camera to the 28-pin connector. This is independent of the Model and Year of the vehicle. (Ex: Your 2017 Subaru Crosstrek could use either of these configurations) Here is a picture of the 5-pin backup camera connector: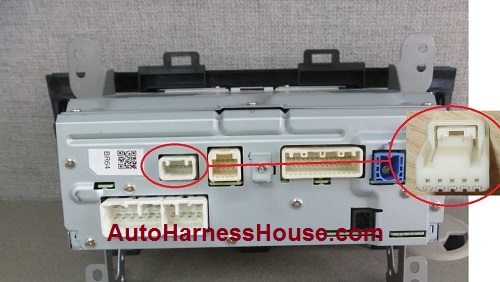 Here at AutoHarnessHouse.com, we build our wiring to work with either variation so you don't need to specify. We've found that most other suppliers (i.e. Metra, SubiSpeed, Crutchfield) don't have this 5-pin connector on their wiring at all so those kits cannot be used to retain the backup camera on models that have the 5-pin connector.
In addition, the backup camera requires 6 Volts. All of the Subaru backup camera adapters that AutoHarnessHouse.com sells have the 6v converter already wired and built into the harness. The harness that we sell has a YELLOW RCA connector for the backup camera. Note that many headunit manufacturers use a BROWN jack for the backup camera. Please be sure that you're connecting the RCA plug to the BROWN jack in this case.
Subaru Starlink/Eyesight
Starlink/Eyesight uses the front speakers to make alert sounds and phone calls through Subaru's Eyesight system. There is a Starlink Telematics Module that sits below the OEM headunit that must be retained to keep the Starlink functionality: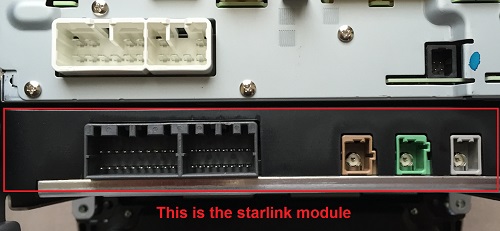 Aftermarket headunits often do now physically allow for this unit fit in the OEM location. We recommend that you find somewhere to put it in the dash. It can often times be moved and placed/mounted further back in the dash. If you do need to remove it, the front speakers will not function. We sell an adapter to bypass the module that will get the speakers working again with the Starlink module removed. This adapter plug is sold here.
Harman Kardon Amplifier
The Harman Kardon system is difficult to replace on these vehicles. The standard harnesses that we sell do not work with the Harman Kardon system as-is. On earlier Subaru models, the amp could be retained by supplying power to a turn-on pin and this would solve the issue. The Harman Kardon systems on these newer cars are distributed such that the amp controls many of the volume control and equalization functions. Essentially, on 2016+ vehicles, there isn't a good way to turn on the existing Harman Kardon amplifier without the OEM headunit so we must bypass that and replace it with an aftermarket amplifier. You'll need to run RCAs from the new headunit to a new aftermarket amplifier. We can supply adapters that will allow you to connect the new amplifier to the speaker connections on the existing amplifier. Harman Kardon cars have 8 speaker channels (2 Front tweeters, 2 Front Door, 2 Rear speakers, and 2 Subwoofer channels). Another option is to use the Maestro RR and the adapters that they sell with it to retain the amp. We don't sell or provide support for that unit but this is the only way that I've found that the Harman Kardon amp can be used with a different headunit.
USB Ports
Some Subarus are supplied with 2 USB ports in the console and some have only 1 port. The 2 port USB port is powered directly from the car's fusebox and the single port is powered from the OEM headunit. The connections on the back of both of these ports are the same but they are not interchangeable between OEM systems. The 1 port version can be easily retained with an adapter that we sell on our sales page but the 2 port USB port does not interface with most aftermarket headunits. This wiring configuration shows up as a USB hub to the headunit. The fix is either to use a USB extension cable between the back of the headunit and the glove box or to replace the 2 port USB port with the single port version and then install the USB adapter that we sell.
---
What parts do I need?
I will try my best to make this list as comprehensive as possible. In some cases, you won't need all the parts if you aren't retaining certain features. Also, as mentioned above, the Harman Kardon system is very hard to replace. This standard set of adapters will not work for vehicles with the Harman Kardon system. I suggest that you contact our support team at inquiry@autoharnesshouse.com if you have a Harman Kardon system and you're planning on installing an aftermarket headunit.
1) Either Pioneer Direct Wire Adapter (part number AHH-70-1761) or Metra 70-1761:
If you're installing a Pioneer or Sony headunit, the Pioneer(Sony) Direct Wire adapter will make life much easier. The Pioneer part is sold here. and the Sony part is sold here.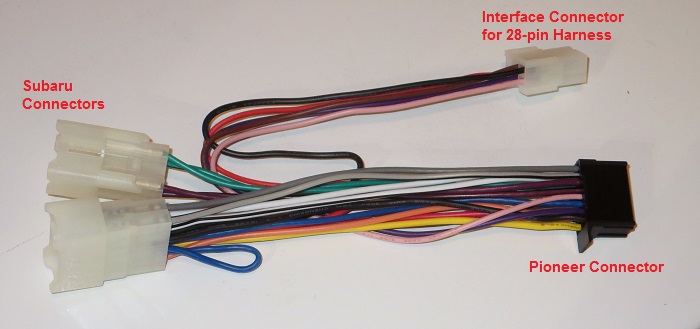 If you're not installing a Pioneer or Sony unit, the Metra 70-1761 will be what you need. This part is sold here.
These parts will connect to the 10-pin and 6-pin connectors on your Subaru's wiring. You will need one of these two parts to retain the most basic functions of your audio system (mostly the speakers and power connections).
2) 28-pin Harness:
This is a picture of the 28-pin connector.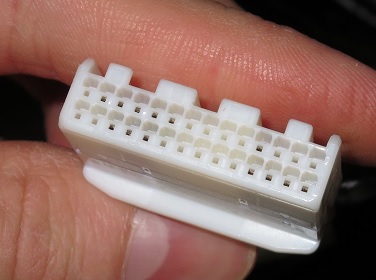 The 28-pin Harness connects to the 28-pin connector and to the 5-pin connector if you have it. Features retained by this part are the backup camera, auxiliary input, and steering wheel controls. There are also signals on this connector for vehicle speed and E-brake that you will have connections for if you need them (we provide the wires...some headunits need them and some do not)
All of the 28-pin adapters that we sell are wired with the 6-pin connector for the Direct Wire adapter. This connects all the signals between the Pioneer or Sony and the 28-pin connector which means less wiring for you! We also provide this adapter with the Maestro SW connector pre-wired. All you'll need to do is set up the Maestro SW module through their online utility and plug it in!
3) AM/FM Adapter:
If you want AM/FM radio reception, you'll need this part. It is sold on the main Subaru parts listing page at this link.
4) USB Adapter:
The USB adapter is sold on the main Subaru parts listing page at this link. If you've got the single USB port in the console, this will be all that you'll need. As discussed above, there is an issue with cars that have the dual USB port (pictured below) in the console. If you have this port, most aftermarket headunits will not be able to retain it. The port is recognized as a USB hub and the headunit will give you an error or it may just not work.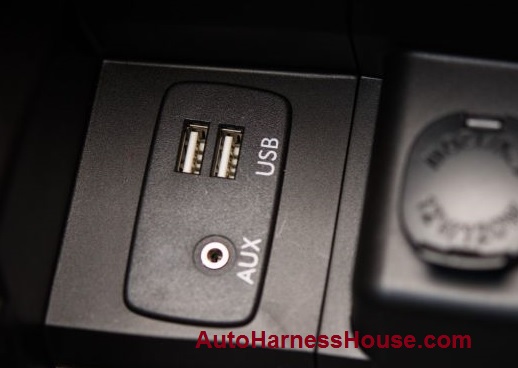 The options to fix this are to use a USB extension to run the USB port from the back of the new headunit to the glove box (the existing ports would just be used for charging and won't connect to the headunit) or you can buy the USB module from a car with a single USB port and replace your existing port and use the USB Adapter that we sell to retain the USB port in the console. If you plan to do this, the Subaru part number for this module is 86257AL210 or 86257AL010 (either should work).
5) Maestro SW (ADS-MSW) - Steering Wheel Control Interface module (link):
We don't normally stock this item but we can procure it in special cases (such as to save on international shipping or if you would like us to flash it with the software for you vehicle). We don't recommend using the AXXESS ASWC-1 because it is more expensive and harder to program. Personally, I've never been able to get the AXXESS ASWC-1 working correctly on these models although I've heard rumors of it working in isolated cases (it does work great on older Subarus). Most of my customers have given up on it. We recommend the Maestro SW because it works correctly every time and is simple to install. It does require a computer with a USB port to load the flash/program onto the module. You will need this module if you're planning to retain steering wheel controls unless the headunit that you've got has the ability to recognize them (Most name brand units don't have this function. Some Sony units and many Chinese Android units do have it)
6) SiriusXM radio Adapter and Tuner:
Most headunits don't have a SiriusXM tuner built in. If you want to have SiriusXM functionality, you will need to buy a tuner that will connect to the back of your headunit. We sell the SXV300V1 SiriusXM Tuner here. Make sure that your headunit is listed as "SiriusXM Ready". This means that it will have the jack on the back where the tuner will connect. If your car doesn't already have SiriusXM, you'll need to install the antenna that's included with the SXV300V1. If you've got an OEM antenna, we sell an adapter that will allow you use the existing antenna here. It is good practice to write down or take a picture of the serial number that is on your tuner prior to installing everything. Normally the packaging that comes with the tuner will have this information but if you lose that, you'll have to pull out everything you just installed so that you can find that number.
7) Radio Bezel/Dash Kit:
We recommend the Scosche Dash Kit if the are available. The Metra versions of these dash kits are cheaper but are much lower quality and the brackets that hold the radio don't work correctly so you would need to use the OEM brackets...not a huge deal but we weren't impressed.
Please find the proper dash kit for your Subaru (along with tons of other wiring information) in our NEW Vehicle Wiring & Compatibility Database:

For the 2017+ BRZ, the OEM dash trim and OEM headunit is a trapezoidal shape and the aftermaket headunit is a rectangle, so there will be space on either side of the aftermarket headunit front panel. It's not terribly noticeable. To fix this, you can either get a previous year trim piece and the dash kit above or get the new 2017 Canadian one piece (look for Subaru Part Number: 66077CA200).
---
Final Thoughts
We wish you the best with your install! As automobiles have become more complex, so have the infotainment systems. We remember the days when you could install an aftermarket Pioneer deck in 30 minutes with minimal effort and $10 or less in parts. We hope that this article will provide you with everything that you need to feel confident that you can complete your installation without spending 4 days and enlisting the help of 6 electrical engineers. Our support team is here and happy to help if you have questions. Email us at inquiry@autoharnesshouse.com if there is anything that we can clarify or if you need something more custom than the standard, recommended set of parts for your vehicle.
Some folks are just looking to install a subwoofer or aftermarket amplifier without doing a wholesale replacement of the OEM audio system. Here is the adapter that we sell to allow you to splice and cut into the existing speaker signals without cutting factory wires. This doesn't work for the Harman Kardon systems but it will fit all other 2016+ Subarus.
---
Related Content
Please see our "How-to" video for removing the headunit from your car. In this video, we show you how to remove the OEM headunit from a Subaru Crosstrek and install an aftermarket Pioneer system:
---
As an Amazon Associate AutoHarnessHouse.com earns from qualifying purchases.
www.autoharnesshouse.com
inquiry@autoharnesshouse.com