Gear for Subaru Vehicles:
---
Aftermarket Headunit Installation Gear

Upgrade your OEM audio system! Click here to see the wiring that we recommend for installing an aftermarket headunit or navigation system in your Subaru.

These adapters will give you what you need to retain the backup camera and steering wheel controls as well as most other OEM functions.
---
The simplest way to install a Pioneer headunit in your Subaru, Toyota, or Scion!

If you are installing a Pioneer headunit in your vehicle, this harness skips the hassle of soldering between the Pioneer wiring and the Metra 70-1761. Connect it directly!
---
MFD Backup Camera Relocation Harness

Many 2014-2015 Subaru vehicles use the small Multi-function display (MFD) in the dash to display the OEM backup camera. We have developed an adapter to allow our customers to relocate the backup camera image from the MFD to the larger navigation screen.

Important Note: After installation, the backup camera image will no longer display on the MFD. This harness will relocate the image from the MFD to the larger, headunit screen. Your backup camera will now only display on the headunit.
---
Aftermarket Amplifier and Subwoofer Installation

Installing an aftermarket amplifier or subwoofer? Pick the correct jumper harness for your vehicle based on the model and configuration of your vehicle HERE!

This prevents the need to cut or damage factory wiring when adding an aftermarket amplifier or subwoofer.
---
7" Starlink Headunit installation Harness for 2016+ Subaru vehicles with OEM 6.2" Starlink headunit

This harness is a custom harness built to retain backup camera functionality for customers updating their vehicle from a 6.2" Starlink headunit to a 7" Starlink headunit. The backup camera connectors for these headunits are different so this breakout harness is necessary to retain the functionality of the backup camera.
---
Subaru Fujitsu-ten Transplant Harness (For 2010-2015 vehicles)

This is an adapter harness that connects to the 20-pin and 16-pin connectors on your vehicle's factory wiring harness. It will provide the necessary electrical connections to install(Transplant) a Fujitsu Ten navigation unit into most newer non-navigation subaru vehicles. Installation is plug and play. Please contact our support team (email to inquiry@autoharnesshouse.com) if you are installing a newer Fujitsu-ten headunit. Newer models are not covered by this page.
---
Backup Camera Installation Harness

The cheapest and cleanest way to add a backup camera to your car or truck!

This harness connects a 12-volt Backup Camera to the stock Toyota/Subaru/Scion head unit. The stock head unit is wired with a 6-volt output. This harness uses a 6-volt relay and the 12-volt accessory power provided to the stock head unit to provide a 12-volt output and composite video input for any standard automobile backup camera.
---
Install the JDM A/V Panel (2005-2009 Legacy and Outback

If your Legacy or Outback has automatic climate control (which is integrated into the OEM audio system), replacing the OEM system means relocating the climante controls. The solution to this is to install the JDM A/V panel, which will require Illumination+ and Illumination- signals from the audio wiring harness as well as +12V. Click here to see what wiring you will need to install the JDM A/V Panel. This is known as the i88 installation adapter in some online forums.

Additional 28-pin or 16-pin socket pins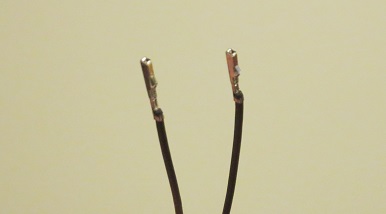 Wired socket pins to fit the 28-pin or 16-pin connector are available. These will fit the stock connector that plugs into the stereo/entertainment system.
---
12-volt power port - Add-a-port harness (Fits: Toyota/Subaru/Scion)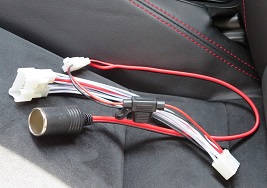 Add a fused "Cigarette Lighter" power port to any Toyota or Scion(also fits some Subaru's).
28-pin Head Unit Wiring Harness Adapter (Fits: Toyota/Subaru/Scion)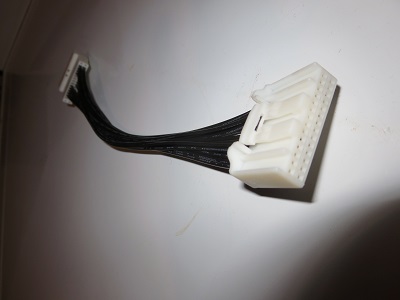 28-pin "jumper-type" harness to fit many Subaru, Toyota, and Scion vehicles. This harness has the female and male connector. One end will connect to the factory harness and the other to the connector on the back of the head-unit or navigation system.
---
12-Volt splice harness (Fits: Toyota/Subaru/Scion)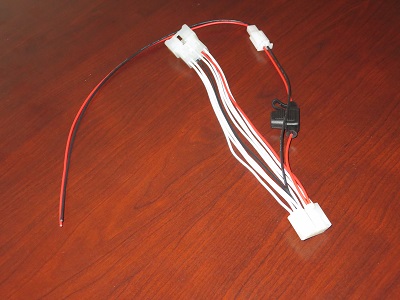 Provides a fused(2 amp), switched 12-Volt accessory output. Connects between standard toyota 10-pin radio/head unit connector and the stereo unit.
The harness is 100% plug and play. No splicing the stock wiring harness. Does not disturb stock appearance.
---
---
www.autoharnesshouse.com
inquiry@autoharnesshouse.com
---